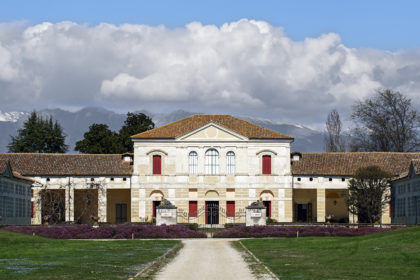 Located in Castelfranco Veneto, along the ancient Roman road, Postumia, between the provinces of Treviso, Padua, Vicenza and Venice. It was Count Giovanni Rizzetti, a prominent intellectual of "Schola Riccatiana", who designed and built Cà Amata, following the architectural canons of the proportional harmonic average, which he identified.
History and Tradition
A place rich in history, art, and culture, where men of science and literature gathered in the eighteenth century, fascinated by the theories of French Enlightenment, giving life to one of the most active cenacles in the Veneto region.
Knowledge, Art and Science
Del Rizzetti, at Villa Ca'Amata, were hosted by the most illustrious scholars of the time, who gathered in the large central hall of the villa, the Sala della Musica, frescoed on the ceiling with the muse of astronomy Urania.
Rizzetti himself had designed the villa to be a kind of high school, a country house where it was possible to discuss new theories and scientific discoveries.
Villa Ca'Amata is still a wonderful example of a Palladian-inspired neoclassical villa. The central body of Ca 'Amata develops on the sides with two porticoes and a small chapel, where religious wedding can still be celebrated today. Perpendicular to the villa, two barchesse for rural use complete it. One of which, once a barn, now expertly restored, has become an ideal place for refined receptions and events.
Natural Beauty
All around Ca 'Amata, the Italian garden, the green vineyards and the lush orchard frame the splendid architecture. Today, Ca 'Amata also gives its name to the exclusive 18-hole golf course in Castelfranco Veneto. The Ca 'Amata Golf Club, built as if it were a large garden, enhances the natural perspective geometries characteristic of the property.